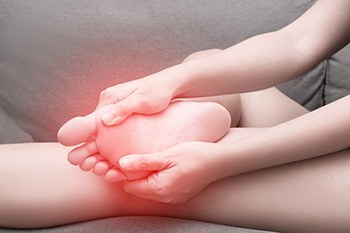 Because the feet are an integral part of carrying out the daily activities of life, it is not a surprise that they often feel painful. Among the most common causes of foot pain are bunions, ingrown toenails, plantar fasciitis, and wearing shoes that don't fit properly. Bunions are a bony bump on the side of the big toe, causing its base to push outward while forcing the other toes to shift together. Because a bunion widens the foot, the bump rubs against the inside of the shoe and causes pressure and pain. Roomy, flat-heeled shoes may help to lessen the effects of a bunion. Likewise, ingrown toenails can be a result of cutting the nail too short, which can cause soft skin to form around it. When this ingrown toenail presses against a shoe, slipper, or tight sock, the toe becomes inflamed and painful. Allowing toenails to grow past the nail bed and trimming them straight across may help prevent this condition. Another cause can be plantar fasciitis, an overuse injury to the tissue that runs along the sole of the foot, which is the most common cause of heel pain. Wearing shoes with ample cushioning and avoiding repetitive pounding of the heels on a hard surface can help to prevent this inflammatory and painful condition. When care is taken to buy footwear that allows your feet to breathe, has adequate support and padding, and has enough room for the toes to move, it is possible to avoid foot pain. For more information, please consult a podiatrist.
Foot Pain
Foot pain can be extremely painful and debilitating. If you have a foot pain, consult with Joan Oloff, DPM from Los Gatos Foot and Ankle . Our doctor will assess your condition and provide you with quality foot and ankle treatment.
Causes
Foot pain is a very broad condition that could be caused by one or more ailments. The most common include:
Bunions
Hammertoes
Plantar Fasciitis
Bone Spurs
Corns
Tarsal Tunnel Syndrome
Ingrown Toenails
Arthritis (such as Gout, Rheumatoid, and Osteoarthritis)
Flat Feet
Injury (from stress fractures, broken toe, foot, ankle, Achilles tendon ruptures, and sprains)
And more
Diagnosis
To figure out the cause of foot pain, podiatrists utilize several different methods. This can range from simple visual inspections and sensation tests to X-rays and MRI scans. Prior medical history, family medical history, and any recent physical traumatic events will all be taken into consideration for a proper diagnosis.
Treatment
Treatment depends upon the cause of the foot pain. Whether it is resting, staying off the foot, or having surgery; podiatrists have a number of treatment options available for foot pain.
If you have any questions, please feel free to contact our office located in Los Gatos, CA . We offer the newest diagnostic and treatment technologies for all your foot care needs.
Read more about Foot Pain