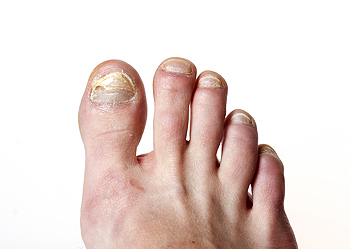 Toenails protect toes. They are made up of keratin which makes toenails tough and resilient to the daily wear and tears they take. Friction from shoes, physical activity, heat and moisture, and some medical conditions can all affect the toenails. Pain, itching, and discoloration can all be signs of toenail problems. Some of the more common toenail ailments are described here. Toenail fungus is an infection that has gotten into the nail causing it to become jagged or crumble, and can spread to other toenails and surrounding skin. An ingrown toenail occurs when the corner or side of a toenail grows into the skin. This can cause redness and pain and may turn into an infection. Toenail trauma can occur as stubbing a toe, dropping something heavy on the foot, or wearing ill-fitting shoes. These can lead to bruising, separation of the nail from the toe, or injury to the underlying bone. Treatment of toenail issues depends on the cause. If you are experiencing such problems, it is suggested you seek the counsel of a podiatrist for proper diagnosis and treatment.
For more information about treatment, contact Joan Oloff, DPM of Los Gatos Foot and Ankle . Our doctor can provide the care you need to keep you pain-free and on your feet.
Toenail Fungus Treatment
Toenail fungus is a condition that affects many people and can be especially hard to get rid of. Fortunately, there are several methods to go about treating and avoiding it.
Antifungals & Deterrence
Oral antifungal medicine has been shown to be effective in many cases. It is important to consult with a podiatrist to determine the proper regiment for you, or potentially explore other options.
Applying foot powder on the feet and shoes helps keep the feet free of moisture and sweat.
Sandals or open toed shoes – Wearing these will allow air movement and help keep feet dry. They also expose your feet to light, which fungus cannot tolerate. Socks with moisture wicking material also help as well.
If you have any questions please feel free to contact our office located in Los Gatos, CA . We offer the newest diagnostic tools and technology to treat your foot and ankle needs.
Read more about How to Treat Your Toenail Fungus